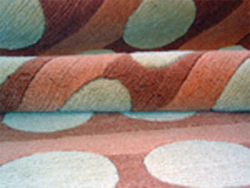 Write
Dakini Carpets
1441 Wazee St
#205
Denver, CO 80202
United States of America
Like an expertly woven rug, our history with the Nepalese and Tibetan rug making is many-faceted. Our company consists of staff based in the Western United States and Managers and Weavers in Nepal. Our company founders were first introduced to the history of Nepalese Tibetan weaving by a family friend from the country. Fascinated by the complexity of the process and the talent of the weavers, the founders of Dakini Carpets saw an opportunity to share this artistry with others and also make a contribution back to the country that keeps the tradition alive.

We are a web-based company offering a unique opportunity for anyone to design and watch production of their own custom Tibetan carpet without leaving home. Because we are entirely web-based we can pass along a great convenience and savings to our customers: carpets are produced in a third of the time and at a third of the cost of conventional methods.

Our partners in Nepal, all Tibetan refugees, provide the highest quality contemporary carpets possible. Our quality is as good, if not better, than our competitors.