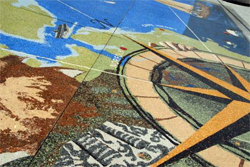 Call
Tel: 301-699-0581
Fax: 301-699-0389
Write
Creative Design Resolutions, Inc.
3413 Windom Road
Brentwood, MD 20722
United States of America
In the 1980s, Steven Weitzman, urban designer, sculptor and nationally acclaimed public artist, developed a unique process for casting concrete terrazzo without metal dividers.

Wanting a durable material that was workable for indoor or outdoor installations — and could be used to create any image, any color, at any scale — Weitzman refined the traditional terrazzo process. He developed a proprietary method for casting full color concrete murals that allowed for complete color control.

Weitzman and Creative Form Liners, Inc. have employed this elegant process in numerous innovative installations throughout the United States.

In response to the overwhelming interest in terrazzo without metal dividers, we created Terrazzo.com, the FÔTERA™ terrazzo division of Creative Form Liners, Inc., to fabricate our precast and cast-in-place concrete products.