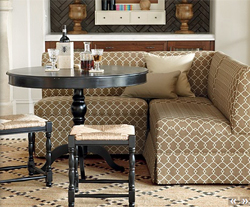 Call
Fax: 800-989-4510
Toll Free: 800-536-7551
Write
Ballard Designs
5568 West Chester Road
West Chester, OH 45069
United States of America
Helen Ballard Weeks founded Ballard Designs after winning the Southern Region of a 1982 Metropolitan Home contest for home of the year. Her Atlanta condominium was photographed for the magazine, and more than 500 people contacted Metropolitan Home asking where they could find furnishings, wall mirrors and other decor items like hers.

Sensing a great business opportunity, Helen quit her job and sold her award-winning condominium to start Ballard Designs in 1983. In that first two-page issue of her catalog, the featured item was a replica of a table found in her own home.

Fast-forward 25 years. Our one-woman start-up has blossomed into a premier multi-channel retailer of unique, European inspired home furnishings and accents. Following Helen's lead, our buyers travel the globe in search of inspiration for creating exceptionally crafted, exclusive products at a value, such as our signature upholstered headboards, ballroom folding chairs and home office wall shelves.

In July 2007 and January 2008, we set upon a new adventure and opened our first retail stores in Florida. Designed to create a feeling of a European open-air market, our stores offer shoppers the opportunity to touch, feel and experience our products first hand. From candle wall sconces to dining room tables to hand made rugs and luxurious fabrics, shoppers can find everything they need to decorate with style.