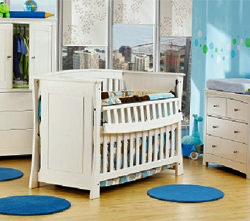 Write
Baby's Dream Furniture Inc
PO Box 579
Buena Vista, GA 31803-0579
United States of America
Online
A family owned company that wants to become a part of your family for generations to come.

Who we are
Baby's Dream has been making nursery furniture since 1990. Baby's Dream was the first to manufacture convertible cribs. Our furniture is designed for parents who want long-lasting, good quality furniture. The cribs are convertible, but the case pieces were also built with the same versatility in mind. See our quality assurance.

Where we are

For more than a decade, we have been headquartered in Buena Vista, Georgia. Located just 90 minutes from Atlanta, Buena Vista is a family-oriented community noted for its scenic farms and ranches. It's one of those rare places where everybody knows your name. Baby's Dream is especially known around Buena Vista because they employ over 200 people making it one of the town's largest employers.

What we believe

One distinction that makes the company special is that fact that we do not mass-merchandise to box stores. Being able to keep a close relationship with the stores, Baby's Dream wants a parent's first step to be desiring and buying our long-lasting quality furniture from customer-centric retailers.

As we have grown in size and sophistication, that simple commitment to serve our customers has continued to be our hallmark and the secret of our success. As an equal opportunity employer, we are committed to diversity in the workplace. We encourage growth and achievement at our company because we know that people are the core strength of our company. Employee initiative, enthusiasm and teamwork have built our reputation for service and product excellence.

Giving Back to The Community
One Tree at a Time…We Help Protect the Environment

We work to promote a healthier and safer environment for our generation and the next. Our wood is handpicked from areas where cold long winters produce forests that are stronger and the most durable. Each piece is chosen for the best possible quality. For every tree used in our manufacturing process one is planted in its place. We are helping fight global warming by sustaining more than 2,000 acres of forests.

Helping the Children of America
Baby's Dream is a dedicated yearly donator of juvenile products for evacuee families temporarily housed at Catholic Charities of Southern Nevada.

K.I.D.S. is a global charity of leading retailers, manufacturers, and licensors of children's and youth products committed to helping improve the lives of children and their families who are ill, living in poverty, or are the victims of natural disasters.
---
Our Brands
---


Baby's Dream Furniture
---
---
Profile
Baby's Dream is the leading provider of baby furniture. They have a vast selection to choose from: cribs, cases and more. Baby's Dream is the first choice for all your baby furniture needs.