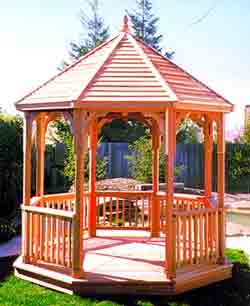 Call
Tel: 916-852-0299
Fax: 916-852-9303
Toll Free: 800-600-0299
Write
Bella Vista Gazebos
3358 Monier Circle
Suite #3
Rancho Cordova, CA 95742
United States of America
Quality Materials

Bella Vista Gazebos are constructed of Clear Kiln Dried Redwood milled to a smooth finish. Redwood is beautiful and is naturally resistant to rot and decay and is insect resistant. Redwood has a richer look of that than cedar and is more sought after in areas where it is available. On the West coast it is the preferred choice for upscale outdoor wood structures. It is not necessary to paint Redwood to cover up the ugly look of pressure treated wood. Redwood gazebos look beautiful natural, or with a light coat of natural colored stain or painted, if desired. The framing underneath the floor is pressure treated but all visible surfaces are eye pleasing redwood. We guarantee your gazebo against root and termite damage for as long as you own it.

Quality Construction

The view from inside a Bella Vista gazebo is superior to that of other gazebos. At Bella Vista gazebos we want you to have a beautiful view while looking up inside your gazebo as well. While sitting in most other gazebos your view of the ceiling is that of shingles stapled to lath. That is why most gazebo manufacturers do not make it a point to show you the inside view of their ceilings.

When you sit down inside your new gazebo and look up we want you to say, "How Beautiful," not "gosh, I didn't think about what the ceiling would look like from inside." At Bella Vista Gazebos, we take pride in details. Our roofs are made of clear beveled redwood. When you sit down inside your Bella Vista gazebo, the view of the ceiling is that of solid, smooth, clear surfaced redwood. We surface each and every board perfectly smooth with our high speed planers and round over all edges.

A Reputable Company

At Bella Vista Gazebos, we have been manufacturing only the highest quality gazebos for over thirteen years. We are a family run company that takes pride in it's craftsmanship and we are a member in good standing with the Better Business Bureau.


High Standards

Our gazebos have been structurally designed by a professional engineer to conform to the Uniform Building Code. Most gazebos on the market have not been engineered and do NOT meet the Uniform Building Code.

Why do we go to the extra expense? To make certain that our products are the best in the business and that they are worth your purchase. We not only want you to be a satisfied customer, we want you to refer your friends and family members to us as well. You will only do that if you are pleased with our products and service.


Affordable

"Affordable" - That's right. Even with all we have done to provide you the very best in gazebos, we also provide them at very affordable prices. If you have done any shopping at all, you already know that this is the truth.

Call us today to place your order.