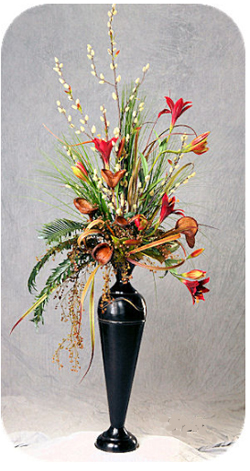 Call
Tel: 405-943-9166
Fax: 405-495-9115
Toll Free: 800-261-9166
In 1983, silk plants were beginning to be recognized as a necessary accessory in home décor. A Touch of Silk, Inc., was formed when two women, Barbra Case and Theresa Nugent, saw a need in commercial locations and homes for good quality silk plants. Theresa was a consummate salesperson and Barbra was a professional floral designer, so it seemed like a perfect match. Twenty-four years later, A Touch of Silk, Inc., has established itself as a manufacturer of medium to high end silk plants, trees, and floral arrangements.

The company concentrated primarily on retail commercial sales until January of 1986. That year, A Touch of Silk, Inc., showed in the temporary exhibits in Market Hall at the Home Furnishings Market. We continued to show in temporary exhibits until 1988, when we hired a representative for Texas who had a showroom in the World Trade Center and who was willing to allocate space to exhibit our products. Over the years, we have also exhibited in temporary exhibits in Chicago, Atlantic City, Tupelo, Denver and Minneapolis. We continued to show in a series of representatives' showrooms until in 1995 we were able to secure our own on the tenth floor of the World Trade Center in Dallas, where they are currently located. We have been nominated by our customers and have been finalists for the annual arts awards in Dallas on three occasions.

In 1992, A Touch of Silk, Inc., decided to expand our market by applying for a government contract. After 18 months of negotiations and meeting stringent requirements, we were granted a contract with General Service Administration. This contract has been extended through 2005. Rather than hire government representatives individually, we currently work with three representative groups, who have approximately 40 representatives. Their coverage is the United States, Europe and Asia. Government sales comprise approximately 20-25% of our annual sales. We also exhibit our line at the Professional Housing Management Association Show each year, creating greater market through international contracts. A Touch of Silk, Inc., is included in the total room package contracts of five different government vendors.

The emphasis in all facets of our business is customer service and satisfaction through our customized design program. Because we are a smaller manufacturer and do not mass produce on an assembly line, we are able to offer our customers individualized items. These are made to the customers specifications and made from start to finish by one of our designers. Thus, we are able to match fabric samples and study blue prints from customers to match their needs with our products.

Today, A Touch of Silk, Inc., has eight full-time employees and seven commercial representatives, with coverage primarily in the Midwest extending as far west as Arizona.

In an effort to give back to their community, the employees of A Touch of Silk donate each year to Promising Tomorrows which is an organization that provides schooling for homeless children in the Oklahoma City metropolitan area. They have also adopted an Art Department in rural Mississippi and donate materials to the classes on a regular basis.