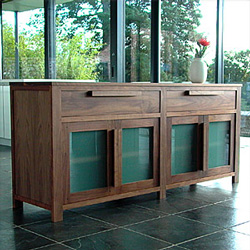 Call
Tel: 212 625 1039
Fax: 212 625 1042
Write
De La Espada
33 Greene Street
New York, NY 10013
United States of America
De La Espada is a leading designer/manufacturer of modern solid wood furniture, founded by Luis De Oliveira and Fatima De La Espada in 1993. Hailing from Porto and Madrid respectively and educated in London, the founders opened the De La Espada flagship store in London in 1996, when there was comparatively little quality contemporary furniture in the city. De La Espada's dedicated factory in Portugal specialises in hand crafting and traditional construction methods to create modern furniture with timeless appeal and the warmth of solid wood. The De La Espada aesthetic evolved from influences including the Arts and Crafts movement, architects such as Tadao Ando, Luis Barragan, John Pawson and Alvaro Siza, and Scandinavian design from the 1950s.


Today De La Espada furniture can be found at its three dedicated retail stores in London, New York and Los Angeles, as well as a growing number of retailers of fine contemporary furniture worldwide. De La Espada's expert touch is also found in sibling brands Atlantico and Autoban Built By De La Espada.


In 2006, De La Espada announced the arrival of sibling brand, Atlantico. Atlantico was created to provide quality modern design in natural materials at an attainable price. Always hungry for fresh ideas and great design, the range contains a core of designs by an in-house creative team alongside hand-picked designs from a selection of acclaimed outside designers.


The collaborative brand, Autoban Built By De La Espada launched at New York's ICFF (International Contemporary Furniture Fair) in 2007. Autoban is an Istanbul-based product and interior design studio that creates designs inspired by their mixture of cultures: European and Asian with an Ottoman past. A selection of designs from Autoban's ever-growing product portfolio are supported by De La Espada's manufacture and deep understanding of solid wood furniture craft, for a range of furniture with the freshness of youth and the depth of expertise.