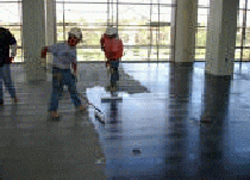 Call
Tel: 949-788-1490
Fax: 949-788-1595
Write
Advanced Moisture Control, Inc.
18007 Sky Park Circle
Suite F
Irvine, CA 92614
United States of America

We expect to provide more than a valid warranty and a competitive price.

We expect to help our customers come to appreciate the mechanics of this moisture phenomena, for they must understand it enough to make a sensible, timely decision in regards to facing the few options ahead.

The problem of concrete moisture and alkalinity affecting flooring systems is worldwide and not easily resolved as many people have learned. Chemically, concrete is immensely complex and always changing. Just as complex and changing are all the questions when facing a slab moisture problem.

So how is it resolved? To put it simply, it takes using a product engineered specifically for compatibility with concrete's chemistry but also be compatible with the floor system adhesive or coating product, the job-site schedule, the environment and of course the budget. Then it takes people with the right stuff to install it.

Advanced Moisture Control was formed to create a system of quality control that ensures a linear chain of custody from raw chemicals to finished project. We accomplish this by creating a business relationship with chosen contractors who are well established, dedicated to service and partnership, and endure the challenges of practicing a specialized trade in order to resolve a specialized problem.

We expect to have success on every installation, just as our customers do.