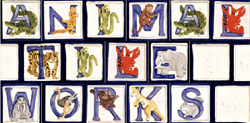 Write
Animal Tile Works
8 Pleasant Street
Camden, ME 04843
United States of America
These relief tiles are designed in the U.S.A. by children's book author and illustrator Susan Ramsay Hoguet; each tile is hand pressed and hand painted by talented artisans working in a small Guatemalan open air studio. Lilyan Benecke, owner of the Antigua studio, was born and raised in Guatemala. Lilyan studied ceramics in England and China.
For customers with a limited budget, these tiles fit with any of the U.S. manufactured tiles (for example - US Ceramics or Mannington) along with the Mexican primaveras. We stock 4x4 field tile for both the Squirrel series and the Noah's Ark series. We also stock a limited amount of 6x6 field tile for the Dancing Bear Series.
As with all handmade tiles, you can expect variations in shading and size. Animal Tile Works, along with it's warehouse, is located in Maine.