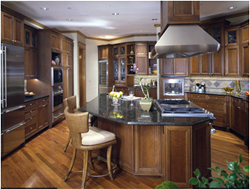 Write
Bellmont Cabinet Company
13610 52nd Street E
Sumner, WA 98390
United States of America
Pacific Crest Industries is a family owned Washington state cabinet manufacturer that has been dedicated to serving the Western United States, Hawaii, and Alaska for 20 years.

Our journey has been one that has taken us from very humble beginnings to being recognized as one of the finest custom frameless cabinet manufacturers. Our people and their day-in / day-out commitment to do what it takes for our customers helps set us apart. We strive to deliver products to our customers that will exceed expectations and provide a lifetime of beauty and service. Our vision has continually been to grow our company while maintaining a strong core of social responsibility.

We are proud of our products and think our cabinets basically speak for themselves.

Our selection, functionality, and craftsmanship provide design solutions with incredible value; and our emphasis on eco-sensitive manufacturing processes and social responsibility reflects our dedication to make sure more than just your cabinets last.

At Pacific Crest, we really are building more than just cabinets. We are building lives through the values we practice daily. They may be considered old-fashioned, but tried and true principles are the ones that last.


We build integrity and respect.

We believe our word is our bond and treat our employees, vendors, and customers with dignity and honor. We build trust and opportunity by sustaining a culture of growth that allows for personal and professional advancement. We build responsibly as stewards of our community and our environment. We are conscientious of our manufacturing processes and how they effect our environment; we really want to leave the world a better place. And from these benchmarks, we build loyalty. It is our ongoing mission to create loyal business partnerships by being the reliable supplier.

Pacific Crest is driven by much more than everyday business and profit. Our goals include a larger sense of purpose for our company and its effect on the world we live in.
---