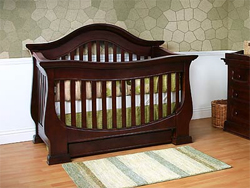 Online
Because of customers like you, we are able to make a positive impact on our environment, shaping and building a better future for all of our children.

Although caring for the environment is a priority for us at Baby Appleseed, you should know that our first and foremost concern is building a safe and sound product for you and your baby. Featuring solid wood construction and no moving parts, our cribs are designed to withstand the test of time; this provides for a safe and sturdy product that will grow with your baby.

With the purchase on a Baby Appleseed crib, you can choose from one of four reforestation projects where 10 trees will be planted on your child's behalf. We have partnered with American Forests to ensure that these trees will grow over the years and help shape a better tomorrow for both you and your baby.