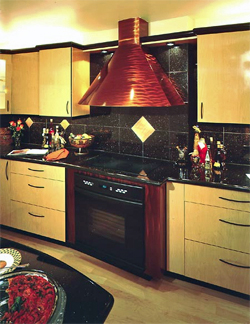 Call
Tel: 860.620.9330
Fax: 860.620.9324
Write
Apple Valley Woodworks
74 Spring Street
Southington, CT 06489
United States of America
It's the place where just about everyone gathers. Friends and family find it welcoming. It's a place that just feels good—filled with memories and good times. It's the kitchen! And kitchen is indeed, theater. The meal is being prepared and everyone's gathering right there, living out their parts, emotions, voices, and of course, expectations of a wonderful meal together.

Three generations of craftsmanship continue to live out that kind of heritage. With every facet of cabinetry, every drawer, every finish, we know our work will also become a part of the fabric of life in someone's kitchen. So we play our part as well in this unique idea of theater. AppleValley Woodworks is the stage director of your dream and your expression. This is what we do and have lived out for three generations. You can't come that far without a real passion for what the kitchen means to so many people, across cultures. And that's not merely our own family—we have many craftsmen and workers who are also second and third generation. That allows us to bring truly seasoned experience to our work everyday. We would be proud to have our fine quality kitchens become a part of your family of theater.

Together with our select dealers we are determined to meet not only your wants and needs but your preferences. You learn a great deal by listening to customers over three generations. Our highly qualified dealers will simplify the process of transition from what you have to what you dream. So look through our site—stay a while. You'll find something in our fine cabinetry that speaks of who you are and what you want to express in that uniquely important gathering place called the kitchen. Now is the time to see your ideas for a kitchen dream come to life. Simply contact one of our dealer showrooms for assistance. One thing is certain; you'll gain many creative ideas by visiting and seeing for yourself.