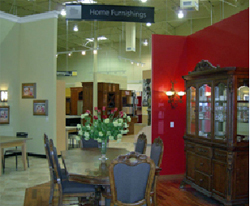 DirectBuy® is the leading members-only showroom and home design center that offers merchandise at manufacturer-direct prices without traditional retail mark-up. Founded in 1971, DirectBuy is headquartered in Merrillville, Indiana and currently has over 150 locations throughout the United States and Canada. For more than 35 years, DirectBuy has been showing thousands of consumers unparalleled ways to save as they shop for virtually everything for in and around their homes – from furnishings, home improvement, and flooring, to entertainment and outdoor products, accessories and much, much more.

Membership
DirectBuy charges membership dues to join, thereby enabling members to purchase merchandise at manufacturer prices without traditional retail mark-up (plus shipping and handling fees where applicable). A DirectBuy membership is valid at any DirectBuy location in the United States and Canada. Members have 24-hour access to DirectBuy's members-only website, where they can find product descriptions, pictures and pricing, as well as decorating and remodeling tips, new supplier information, and news from their local showroom.

Savings
DirectBuy derives no income from the sale of merchandise. DirectBuy allows consumers to purchase brand-name merchandise at manufacturer-direct prices - the same prices that manufacturers and distributors give to retail stores. By providing brand-name items without traditional markup, DirectBuy dramatically increases the purchasing power of its members, enabling them to enjoy the home of their dreams.

Selection
DirectBuy offers only brand-name, first-run, current merchandise. Members have access to literally hundreds of thousands of products, including specialty items such as custom-order furniture or cabinetry, from more than 700 brand-name manufacturers and their authorized suppliers in the United States, and more than 500 brand-name manufacturers and authorized suppliers at locations in Canada. The selection at DirectBuy is often much more extensive than at warehouse clubs and retail stores. DirectBuy constantly updates its product database to ensure that members have access to the latest products from the top brand names in the home furnishings industry. Additionally, DirectBuy members enjoy professional design, delivery and installation services for nearly every product they purchase.

Service
DirectBuy is a "one-stop shopping" destination offering spacious, well-organized design centers where members can browse and select merchandise in a comfortable, hassle-free environment. New members receive an orientation to help them understand the shopping process and are assisted throughout the length of the membership by trained product specialists in all product categories.

DirectBuy takes special care to ensure that members receive the best service, which includes:
A thorough New Member Orientation to help them enjoy all the benefits of membership.
Trained Product Specialists across five major categories of merchandise: home furnishings, home improvement, flooring, entertainment and outdoor, and accessories.
Specially equipped trucks and trained personnel that deliver more than 90% of all merchandise purchased by members at below market freight rates to ensure safe, cost effective and timely product delivery.
Local inspection of all merchandise at each of the showroom warehouses to ensure mint condition when received from the manufacturer.
Professional design, delivery and installation services through its network of outside suppliers, contractors and installers.
Covering all merchandise by manufacturer's warranty (when applicable).
DirectBuy has also recently relocated and nearly doubled the size of its distribution center, which allows it to service more manufacturers, speed delivery of merchandise and reduce costs for its members.