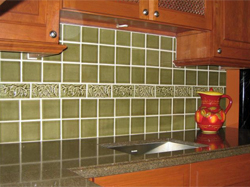 Call
Tel: 707-586-2776
Fax: 707-586-2762
Write
Bella Rosa Studios
Corporate Offices
3780 Santa Rosa Ave., Ste. B
Santa Rosa, CA 95407
United States of America
Here at Bella Rosa Studios, tile is our passion. It is this passion that led a group of family and friends to create Bella Rosa Studios, a unique tile manufacturing company that produces and imports only the highest quality materials. These distinctive tile and stone lines add beauty to any home.

With over 75 years of combined experience in the tile industry, ranging from tile installation, ceramic engineering, distribution, design and customer service, we know that what we offer is special. With the added bonus of manufacturing our tiles in California, we have given our dealers a competitive edge with local service, a premium ceramic line, a lead-time that is deliverable and a product they can be proud to sell.

We will always strive to create the highest quality tile collections at an affordable price. And we have an eye on our future. Bella Rosa Studios is in the process of converting our entire ceramic tile to LEED certifiable "green tile." Our team developed a process of manufacturing that is beneficial to the environment without having to sacrifice the beauty of the product. We will continue to add different mediums of tile such as glass, metal, and porcelain as well as adding more premium stone and ceramics.

We at Bella Rosa Studios appreciate the opportunity to share with you our passion. We want to create a collection of tile that can be used to design an environment you love.