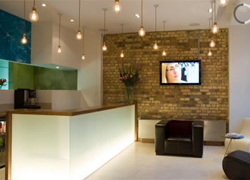 Call
Tel: +44 (0)20 7729 8111
Fax: +44 (0)20 7729 8124
Write
B3 Designers
Studio 3
51 Derbyshire Street
London, E2 6HQ
United Kingdom
B3 Designers creates spaces derived from a marriage of aesthetics and functionality, tailored to the client's needs. Our architectural interiors are spatial solutions to the demands of each project's use, projecting an image that fits with the company's brand values.

Established in 2002, the company specialises in unique and contemporary designs for hotels, restaurants, bars, retail spaces and exhibitions. Experience within these fields has led us to work with diverse clients, ranging from those that have a clear idea of what they want and simply need us to facilitate it, to those who would like us to develop the brand alongside the interior.

Contemporary interior design: from brief to build

Working with the client, the design team will start by understanding the brief and the core principles of the brand. This understanding will then be used to produce a design direction, consisting of research into competitors and a rough idea of where the concept will fit in the current market. On approval, this will be refined in the concept development, by the end of which the client will be shown sample materials, colours, layouts and visuals. The final stage is drawing up a set of working drawings, which can then be issued to a contractor for implementation. This way of working enables the direction to be guided at each stage, resulting in an interior that answers both the practical and visual needs of the space.