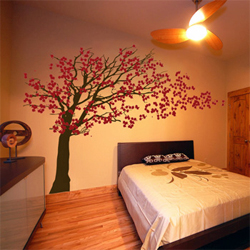 Call
Tel: 828-333-9769
Toll Free: 877-769-3254
Write
Dali Decals
2002 Riverside Drive
Suite M
Asheville, NC 28804
United States of America
We have hundreds of stock-designed wall decals that can be made in over 40 different colors to match just about any decor. Any of our stock-designed wall decals can be custom sized to suit your needs. We can also create custom wall decals, and/or get custom colors. Please contact us about having a custom wall decal created for you.
Wall decals are quicker, easier, and less expensive than painting. Our wall decals look painted on once installed. Plus, you can remove our wall decals at any time!
We include step-by-step instructions and an application squeegee with every wall decal order. Our representatives are available around the clock via phone and/or email to help you with any questions you might have on custom wall decals or installing your wall decal.
Wall decals are easy to install on just about any wall, smooth or textured, and are easily removable without damaging the wall. Our wall decals are removable, but not reusable. Our wall decals can also be applied to glass, and can be installed indoors, outdoors, and even on vehicles! We only use the best quality material available to create our wall decals!