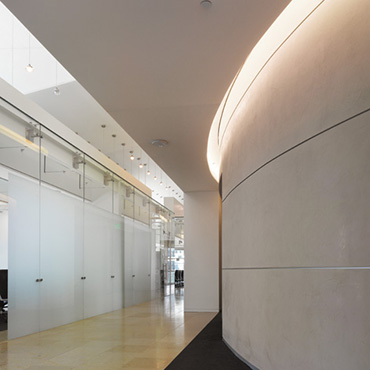 Mark Architectural Lighting offers an exemplary selection of architectural-quality recessed fluorescent luminaires backed by a resolute commitment to superior customer service. We also have an unflinching willingness to be flexible with our products and processes.
In addition to providing a palette of standard fixtures, Mark Architectural Lighting is an innovative and creative design resource with the ability to modify or customize products to meet specific project needs.
Our story is a classic one. Founded in 1965 as Mark Lighting, a small maker of commodity light fixtures in northern New Jersey, our company grew over the next four decades into a highly regarded manufacturer of specification-grade recessed lighting.
In 2007 Mark Architectural Lighting was acquired by Acuity Brands Lighting, one of the world's largest manufacturers of lighting fixtures. For ABL the acquisition brought an impressive array of new products to complement its expanding portfolio of specialty brands. For Mark it brought new opportunities for geographic expansion through ABL's extensive global sales network.
Dedication to customer satisfaction, emphasis on collaboration and flexibility, stylish and innovative designs, and a keen understanding of the specification marketplace have helped Mark Architectural Lighting establish a solid reputation in the design community. We continue to build on that foundation and to follow the principles that have guided our success.
Collaboration is essential to the success of any project. Mark Architectural Lighting understands that.
In an uncompromised effort to ensure that our customers' design concepts become reality, we work hand-in-hand with specifiers to design new or modify existing products to meet strict project requirements.
Our ability to quickly modify products to customers' specifications has been a key ingredient in building lasting relationships with architects, engineers and designers. We have rapid prototyping capabilities, flexible manufacturing processes and experienced design engineers who are ready to meet the needs of each individual customer.
At Mark Architectural Lighting, we embrace challenges and the opportunities they present, and we are always eager to bring effective solutions to complex or unique lighting needs. We are happy to collaborate because we have a genuine desire to see your ideas transform into effective architectural design elements.