Children's Furniture
---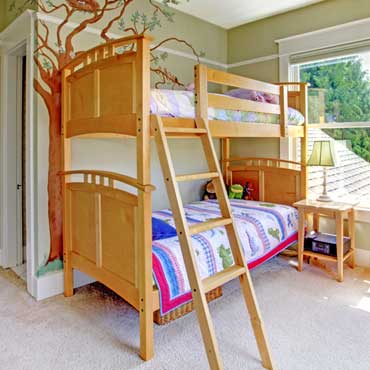 Designing your child's bedroom is always enjoyable, and having the right kids' furniture makes the project even easier. There is a wide variety of kids' bedroom furniture so you can create an atmosphere that is comfortable and expresses your child's personality. Select from individual pieces or completes sets including matching dressers, beds and side tables that create a unified appearance. With kids' bedding collections introducing cheerful colors and prints of favorite characters, your child will enjoy jumping into bed every night.
Children's furniture is available in different styles, allowing you to create a unique setup for your child. When picking kids' furniture for toddlers or young children, consider beds and seating that feature their favorite cartoon characters, princess or superheroes. For older kids and teens, go with options that are a bit more stylish and practical. You'll find everything from neutral tones to colorful hues and patterns to suit any kid's style.
No matter what design you choose, choose storage solutions and dressers that hide all the clutter. Kids' room furniture like chests and dressers with drawers that can hold everything from clothes and towels to toys and kids' bath supplies. There is a large selection of kids' furniture that meets your child's ever-changing interests.