Bars
---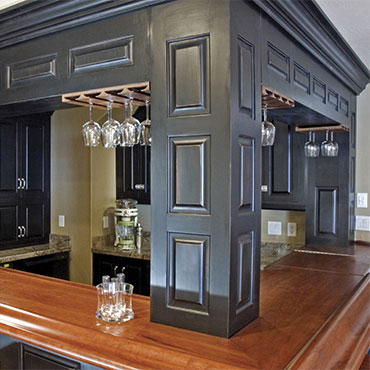 Tired of dealing with crowded pubs or local bars not having your favorite drinks? Then build a small home bar to enjoy in the comfort of your own home. Building one begins with a bar counter. There is a wide selection of styles to personalize any family room, den, or rec room. Classic colonial and ladder-style designs match almost any home furnishings, and they can easily hold small wine racks bottles and glassware.
In-home bars not only offer a relaxing place to have a few drinks and unwind, but they are also a perfect spot for entertaining family and friends. Of course, you'll want to make sure you have enough bar stools to make room for your guests. If you need more seating, a few round bar tables or pub tables with chairs should do the trick.
When you want to add a little extra excitement and flair to your house, all it takes is finding a spot in your den or dining room to devote to entertaining. There are plenty of home bars to make it easy for you to find a design and style that matches up with your current home furnishings. Transform your home into the place all your friends want to gather.