Cork Plank Flooring
---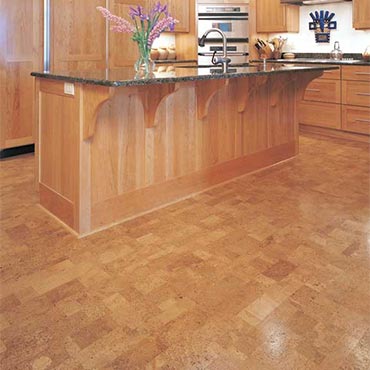 Cork plank flooring is fast becoming the most stylish alternative to traditional floor covering and it's practical and environmentally friendly too. For more than 100 years, natural cork has proven to be one of the most resilient and durable floor coverings available in Europe. Even though cork plank flooring has been offered for decades in the United States it is only recently that fresh styles, trendy colors, and tough finishes have led to its rediscovery and positive reception. A particular favorite in trendy West Coast kitchens and in urban Eastern U.S. markets.
Cork is waterproof, resilient, and lightweight. It also acts as thermal insulation, absorbs sounds and small air pockets in the material serve as shock absorbers. Consequently, it's a superb option for the busiest areas of a home - kitchens, exercise rooms, halls, family rooms and children's play areas. The combination of durability and low maintenance also make cork plank flooring perfect for various commercial interiors, such as stages, music rooms and dance floors.
Introduced in the late 1800s, cork flooring has a proven track record as one of the most resilient of the sustainable harvested natural materials. It is produced from the bark of mature cork trees indigenous to Spain, Portugal, and other western Mediterranean countries. At approximately nine-year intervals, the bark is cautiously stripped from the trunks and ground into granules that are bonded with resins and molded at high heat and pressures. Manufacturers vary the granule size to produce different patterning.
Most planks come in shades from tawny brown, just like cork bulletin boards or wine stoppers, to the darkest of browns, by burning the cork before it is compressed. Some manufacturers offer stains ranging from off-white to earthy reds and greens.
Cork plank flooring is becoming popular because it can be installed as a floating floor. A floating floor allows installation where previously you didn't want to glue down planks, such as areas that are below grade. Similar to laminate flooring planks, the floating cork floor plank consists of a cork base, a fiberboard center core, and a surface layer of cork in a variety of patterns.
Like engineered hardwood, cork comes in planks that can be adhered to the subfloor, or in floating tongue-and-groove systems that need adhesive only on the edges. A floating floor can be installed over a less than perfect sub-floor, provided the sub-floor is level. The tongue and groove system uses the same procedure as the installation of a laminate floor. Glueless floating cork planks that snap together are outselling tiles because they're easy to install and have a pre-attached underlayment.
Planks are normally purchased prefinished with three coats of a UV-cured polyurethane. But most manufacturers either require or recommend that installers brush on up to four additional coats to seal the seams after they install the floor. Other finishes include acrylic, wax and varnish. When the finish starts to wear off, the cork plank floor can be resanded and refinished. Cork flooring is fairly easy to clean. Sweeping and mopping are the usual maintenance.