Custom Wood Floors
---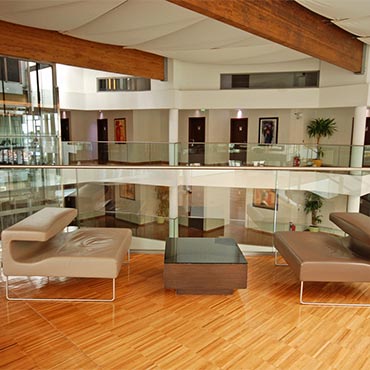 Wood flooring can be enhanced with something as simple as a strip border around the perimeter of the room or as ornate as a coat of arms in a foyer or a great room.
Custom designs can give a homeowner a "one-of-a-kind" floor and are a wonderful way to put a splash of personality and individual character in a home.
Mixed Media - By combining wood with several different media such as slate, stone, marble, metal or ceramic tile, floor designs and patterns come to life. Adding detail with paint is another alternative. Designs properly applied will enhance and differentiate any wood floor. Use a solid gloss or semi-gloss paint to make stripes, checkerboards, stenciled borders or even flower or animal scenes. The paint must be compatible with the finish and the floor must have two coats of finish over the paint.
Mixing Species - Mixing wood species is another way to create contrast in wood flooring. Oak is not the only wood type being used today. Maple, birch, walnut, Brazilian cherry, mahogany, ash and many other species offer unique grain and color specs.
Affordable Custom Floors - A floor refinisher can use different wood stains to create fool-the-eye inlays, pinstripes or borders. A simple brass inlay around a fire place is a cost-effective way to add that value-added touch. Or ready-to-lay, prefabricated wood tiles with medallions, star bursts and elaborate borders are available through wood flooring dealers. These pre-fabricated tiles allow homeowners to mix and match to create their own patterns and designs.