Exotic Hardwood Flooring
---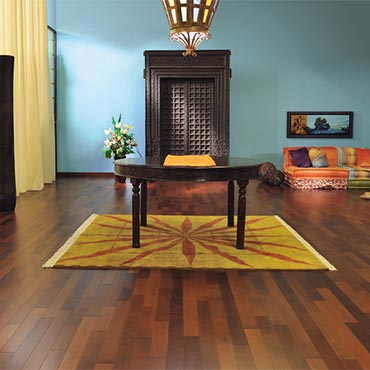 Exotic hardwood flooring is simply ordinary hardwood that originates outside the particular country you live in. Keep in mind that exotic hardwood here in the United States may not be exotic in another part of the world. Think about Zebrawood, it is not considered "exotic" in Cameroon Africa. This is because it's a hardwood that is easily obtainable in that market. So don't let the word "exotic" deceive you into believing the hardwood is limited in supply, but only that it's not local to your vicinity. South American Jatoba isn't really considered "exotic" in that part of the world either. Though it's rather costly, what makes a hardwood exotic should really be its availability.
When searching for exotic hardwood flooring, check to see where it originated from and how was it obtained. Exotic hardwoods are commonly imported from South America, Australia, Asia and Africa. The most common types of exotic hardwood are: Brazilian walnut, Brazilian cherry and Santos mahogany. Before selecting any type of exotic flooring make sure you are well informed as to the hardwood's appearance, its ability to withstand humidity and its hardness and stability.
Another consideration is the environment. Many exotic hardwoods are removed from endangered rainforests around the earth. These are NOT the hardwood floors an environmental conscience individual would necessarily want. More importantly however, there are many alternative exotic hardwood removed from managed tree farms that are grown specifically for the world market. Teak is a good case in point, an exceptionally hard wood that although originated in the rainforests, is now harvested in many places as a crop to serve the flooring market. By selecting a farm raised hardwood, you will not only be getting an exceptionally attractive floor that lasts a lifetime but will be helping to preserve the rainforests and providing a livelihood to the indigenous people.
Green flooring or eco-friendly flooring is a new catchphrase for a new type of flooring product. Those who produce green flooring are committed to manufacturing flooring that is harmless, non-toxic, and environmentally friendly.
The first step to going green is to use engineered hardwood that comes from a sustainable forest. These woods are found in areas managed by silviculture techniques. Silviculture is the science, art and practice of caring for forests with respect to human objectives. One example is for every tree taken, another is either planted or left to grow to full maturity.
Second, is the use of non-toxic bonding agents. Many types of glue, especially used in imported engineered hardwood flooring, off gas formaldehydes and other air-borne chemicals into the home or surrounding area. By using non-toxic glues, green flooring manufacturers give their consumers flooring that produces no off-gasses in their homes.
The third step to green flooring is the finish. Many chemicals are used in lacquers, varnishes and other methods of finishing a floor. By using FDA approved oil and water based finishes, green flooring manufacturers guarantee non-toxicity of the exotic wood surfaces.
From Afrormosia to Zebrawood all are stunning exotic wood that create high quality flooring. With a little care, it's possible to obtain some of the finest "exotic flooring" on the earth while still respecting the environment. Green hardwood flooring may cost a bit more, but the piece of mind you receive is priceless.