Hardwood Strip Flooring
---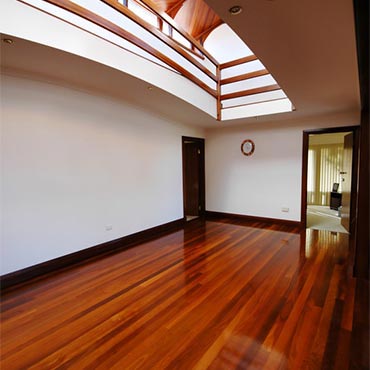 Wood strip flooring is a traditional solid wood floor. Tongue and groove strip flooring has been a popular choice for homeowners since the late-19th-century when improvements in millwork technology occurred. Wood strip flooring comes in narrow widths, 2-1/4 inches or narrower, and it has a tongue and groove on both sides and ends. This type of flooring is denoted by the thickness and width of the wood planks.
Usually measuring 2-1/4" wide and laid in random-length rows, interlocking strip floors is most commonly made of oak but is widely available in maple, heart pine, cherry, and other species. Oak strip flooring comes in either white or red. The color of white oak runs from a creamy white or light brown to medium brown. It's a bit harder than red oak, has smaller markings, and has a more uniform appearance. Red oak is reddish brown, and its open grain makes it somewhat porous. Maple strip flooring runs from pale white to light reddish brown. It has a uniform texture and closed grain and is very hard, harder than red oak. Gymnasium floors are always constructed of maple strip flooring. Pine strip flooring, considered a soft wood rather than a hardwood like oak or maple, was commonly used in early American floors because of its natural stability. Longleaf heart pine and southern yellow pine are the hardest of all pines. Minor dents and dings will happen over time but tend to enhance a strip floor's character. Cherry strip flooring is appreciated for its warm reddish coloring, straight grain, and smooth texture. It looks sleek when sanded and finished. Of medium density, it is dimensionally stable upon kiln drying.
Wood strip flooring has a set width, but the thickness can vary. Wood strip flooring is generally available in widths of 1 1/2 inches, 2 inches and 2 1/4 inches. Strip flooring ranges in thickness from 5/16 of an inch to 3/4 of an inch wide. Materials of a greater thickness should be considered when floors will be subjected to hard service and frequent sanding. The wood strip flooring may be laid parallel to the wall or diagonally.
Wood strip flooring is a natural material and will contract and expand as ambient humidity conditions change. Because of the effects of moisture, wood strip flooring is not recommended for use below grade, in kitchens, bathrooms or in laundry rooms. In order to keep the flooring manufacturer's warranty valid after installation, the areas in which the wood strip floors are installed must be adequately ventilated with natural or mechanical air circulation at all times during the life of the flooring.
Engineered wood strip flooring features a top veneer layer of fine hardwood, which is pressure glued to a hardwood core. This product is usually installed with a "floating" installation system. The precisely milled tongue and groove planks are tapped together over a 1/8-inch foam underlayment. No attachment to a sub-floor is necessary, a good method when humidity may vary considerably.
Wood strip flooring should be delivered to the site in original unopened packages and should be stored in fully covered, well ventilated areas and protected from extreme changes in temperature and humidity. Wood strip flooring should be maintained at an average moisture content of 6 to 9 percent. Temperature and humidity in the storage area should closely approximate the temperature and humidity of the rooms in which the flooring is to be installed.
Regular wood strip flooring is sold by the board foot and a 5 percent waste allowance should be added to the total ordered.