Indoor and Outdoor Carpet
---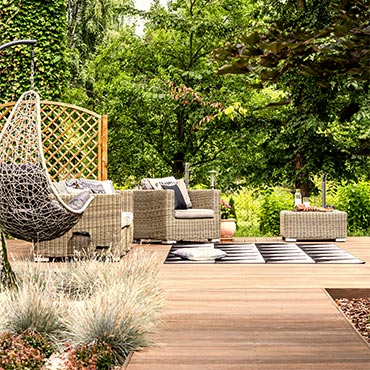 Outdoor carpet is a practical concrete balcony covering, offering comfort, a superior slip-resistant surface, and aesthetic benefits. Outdoor carpet on properly sealed, good quality concrete should not contribute to the deterioration of outdoor concrete balconies.
The key factors influencing accelerated concrete deterioration include the type of sand used in the concrete mix, the quality of the concrete, and depth of the rebar beneath the concrete surface. In coastal areas, allegations have been made that less costly beach sand is sometimes used in the concrete mixture. High salt concentration from beach sand acts as a catalyst for electrolysis, causing the metal rebar supports in concrete to rust quickly. A majority of the concrete balconies that show premature structural fatigue have metal rebar that is less than ½ inch from the surface. Most building codes require that the rebar be no less than 1 to 1 ½ inches from the surface.
Proper use of a high quality concrete sealer can reduce the deterioration caused by high alkalinity or continued moist conditions. A sealant should be applied to all exposed concrete balcony surfaces, whether a covering is installed or not, because balcony surfaces, edges, and supports exposed to the elements are likely targets for deterioration. If beach sand, or sand with a high salt content, was used in the concrete mixture, deterioration may occur from within, and sealing the surface will not prevent this occurrence.
Specialists in the field of high-rise balcony repairs state that carpet is a very good floor covering, providing the concrete meets accepted quality standards set forth by the American Concrete Institute and has been properly sealed.