Kitchen Cabinets
---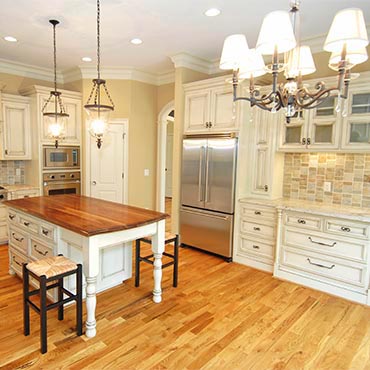 kitchen cabinets add style, depth and detail allowing a home take on an entirely new personality. Kitchen cabinets come is a wide selection of choices from such major brands as Kraftmaid, Ikea, and Thomasville. Picking out cabinets for your new or remodeled kitchen is not an easy proposition. The choices for door style, wood grain, finish and options are infinite. You local cabinet dealer might be a good place to start.
Select the wood grain you want and desired finish. Maple, pine, cherry, hickory, birch and oak kitchen cabinets are some of the most popular choices in wood design. Signs of quality cabinets are grain that matches from piece to piece and furniture-quality finishes. Painted white, black or staining a vintage antique finish are also options.
Choose stock kitchen cabinets when controlling costs is your priority. In stock, ready to assemble cabinets leave room in your financial plan for upgrades elsewhere. You'll find fewer finish options but many popular styles, woods and accessories. Most people spend up to 60% of their budget on kitchen cabinets, buying factory direct or unassembled do it yourself cabinets might be an option to explore.
Plan on spending more for custom units if you need to fit exact dimensions. Top-quality materials and craftsmanship increase both the cost and turnaround. Semi-custom cabinets are also made to order, but their set widths may require inserts for a perfect fit.
Investigate manufactured finishes such as laminate or thermofoil. Both are easy to clean and less expensive than wood, but also less durable. Ask about typical repairs and what the warranty covers. Examine a showroom sample that has been in use for a while to see how it wears.
Insist on construction that can support heavy cookware and withstand countless openings, bumps and spills. Drawers with dovetailed joints are stronger than stapled ones. Doors with fitted mortised corners are sturdier than non-interlocking butt joints. Also look for 3/4-inch face frames.
Take a quick look inside the cabinets. Most stock and semi-custom units use solid wood only for the exposed frame, doors and drawers. Even high-end cabinets may contain particleboard or veneer-covered plywood inside. Both are less likely to warp than solid wood, and can be stained or painted.
Look for drawers that extend completely and are equipped with self-closing glides rated to hold 75 lb. Well-made drawers boast 1/2- to 3/4-inch sides with dovetailed or doweled joints and a strong bottom that's glued into grooves. The strongest shelves are 3/4-inch plywood.
Remodeling your kitchen with new cabinets or refacing, refinishing, or painting existing cabinets to your exact standards not only adds beauty, but also adds value to your home. Look at all of the possibilities that are open to you. There are so many different furniture styles available; country, rustic, retro, contemporary, or a european style might best suit your home decor. You should make sure you check out as many as possible before you start to plan your kitchen makeover. Another good place to start is by looking at magazines and home improvement booklets. Visit home improvement shows or watch the new home and garden shows that are on T.V. You will be amazed at all of the ideas you will come up with. With all of these ideas, you may be able to design you own kitchen with a mix and match of ideas to make it uniquely yours.