Luxury Vinyl Flooring
---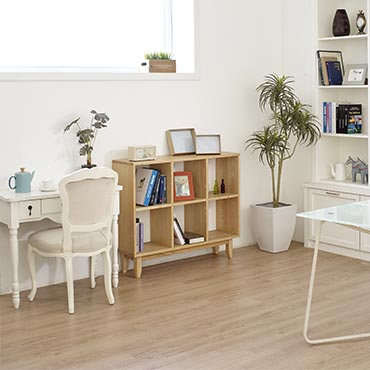 Luxury vinyl isn't to be confused with sheet vinyl. It is a newer innovation made of several layers of resilient polyvinyl chloride (PVC) while the top layer is coated with urethane. The photographic layer can depict many materials like stone, granite, and wood. Advances in manufacturing allow more detailed textures besides just smooth and shiny, departing from its "plastic" look of your parents generation.
The best types of vinyl flooring are generally smooth and 100% waterproof, making spills easy to clean without giving dust a place to hide. Cleaning them requires a light vacuum, consistent sweeping, and the occasional deep clean.
Since luxury vinyl is 100% waterproof, house training dogs or cats isn't as stressful.Scratch-resistant surfaces make pet nail damage nothing to worry about. Pet hair and dander can easily be swept or vacuumed away.
Luxury vinyl has DIY installation potential in because they come in many varieties. Vinyl can easily install over an existing floor without nails or glue. An underlayment can help reduce noise and keep this floor warmer in cold weather. The click-and-lock feature makes seams tight and sturdy. A peel and stick Luxury vinyl can stick directly onto a smooth surface. Or you can also choose to install LVT or LVP over a subfloor and secure them with glue.