Parquet Flooring
---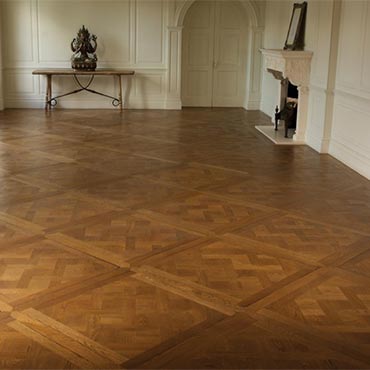 Parquet flooring is a natural product that can convey a feeling of warm and a sentiment of tradition while appealing to homeowners who are mindful about health and the environment. Parquet flooring has several advantages over other types of flooring, including its abrasion resistant, easy-care against stains and spills and its sanding characteristics. The most popular parquet flooring on the market is the engineered pre-finished parquet.
Parquet flooring is enjoying a rebirth of sorts right now. Marketed first through home centers, parquet flooring's popularity is growing as homeowners select the product to add warmth and style to their homes. Parquet flooring is receiving renewed attention from the homeowners for a few reasons. First, it is a relatively inexpensive wood floor to buy and install, especially if consumers do it themselves. Second, manufacturers are making parquet in a variety of colors, styles and species. Finally, the homeowner is searching for a different look. Linear plank is now the popular fashion, which means homeowners are looking to distinguish themselves from their neighbor, and selecting the classic geometric style of parquet flooring.
Another reason parquet flooring is gaining popularity is the result of the increasing health and environmental concerns of consumers. Increasing fears about chemical compounds and concerns by many allergy sufferers about dust has led many consumers to switch from wall-to-wall carpeting to hardwood flooring.
It also has several practical advantages, such as its ability to be cleaned easily, its durability against spills and stains and a material makeup that allows it to be resanded and refinished again and again. Homeowners are recognizing the value of acrylic-impregnated parquet flooring, with its unique combination of thru-color and wear performance.
In addition, wood flooring has ecological advantages over carpeting and synthetic-based floor systems. Timber is a renewable raw material and disposal of old wood products is environmentally sound.
As homeowners continue to lean toward more classic and colonial designs, a simple way to enhance the look of the floor is by installing a parquet floor be installed at a 45 degree angle. A parquet floor installed in this manner provides a custom look without adding significant cost, and provides a pleasingly subtle background for area rugs. Dark, intricate patterns give a traditional feeling, while simple naturals can be used in contemporary-modern to art-deco settings. It also balances a room's dimensions by not making a room look wider or narrower, as do linear wood floors.
Another easy way to add flair is to use feature strips to compliment and enhance the look of parquet. Again, feature strips add a custom look to the floor and an upscale designer style without adding significant expense. Several manufacturers provide a complete package of coordinating feature accents.
Parquet floors should be maintained much like any other fine hardwood floors. First, you should determine the type of finish on the floor. The finish is probably one of two types - a penetrating sealer and wax, which gives a soft but durable finish, or a hard-surface finish such as polyurethane. Two basic rules: Surface-finished (polyurethane) floors should not be waxed, and sealer-wax floors should never be cleaned with water.
For routine cleaning of any wood parquet floors, vacuum or use a dust mop frequently. Throw rugs in high-traffic areas will help keep grit and dirt off the wood.