Random Width Plank
---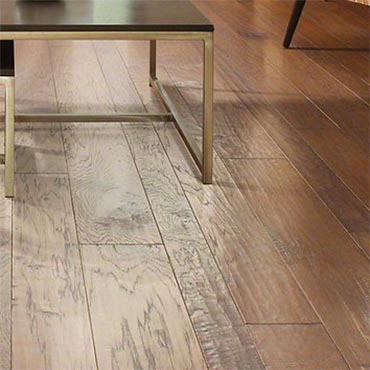 Random width plank flooring allows homeowners to reproduce the rustic look of an earlier time. Up until the latter part of the 19th century all wood plank floors were random widths. Random width flooring dates back to the days when hardwood flooring was made on the jobsite. The tongue and groove was planed by hand on a board with no preference to the width - just whatever it would make. In the late 19th century and through the 20th century, when improvements in millwork technology occurred, wood floors evolved to the standard strip floor of today. Selecting random width plank flooring for your home will help you create the look of an early American wood floor.
Random width plank flooring is usually available in widths from 3 to 8 inches; most installations are comprised of three different sizes. The widths selected should correspond to the dimensions of the room in order to keep the flooring in proper scale: the narrower ones for small rooms and wider ones for the larger rooms. Random plank comes with a square or beveled edge and may be prefinished at the factory or finished after installation.
Random width flooring also has a tongue and groove side. The prefinished tongue and groove installation does disguise any shrinkage, as the V-joint becomes a fraction wider, whereas with a square edge, the crack caused by shrinkage is more obvious. This is why it is important that all wood to be stored in the climatic conditions that will prevail at the installation site. This will allow the wood to absorb or dissipate moisture and reach a stable moisture content. A white finish will also emphasize any shrinkage.
In the past, some random width floors were installed using wooden pegs or plugs. A hole (or several holes in the case of a wide plank), was drilled about 1-1/2 to 2 inches from the end of the plank and a dowel was pounded into the floor joist and glued into place. Any excess dowel was cut and sanded flush with the floor. Many times, these plugs were constructed of a contrasting wood and became a decorative feature of random width plank flooring. In later years, screws were countersunk and short dowels of walnut, other contrasting woods, or even brass were glued in to cover the screws for decorative purposes only. Today, unfortunately some prefinished floors may even have plugs made of plastic, which seems incongruous in a wood floor. Another decorative joining procedure was the butterfly or key, where a dovetail-shaped piece of wood was used at the end joint of two boards.
Random width flooring is sold by the square foot and a 5 percent waste allowance should be generally added to the total square footage.