Mexican Tile (Saltillo)
---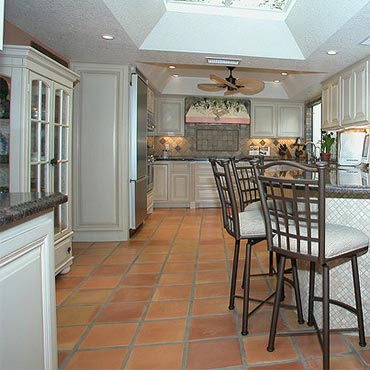 Mexican Tile is generally hand-made unglazed tiles crafted by pouring the clay into wood or metal forms. The clay is usually taken directly from the ground and is shaped by hand into the forms. After being removing the forms, Mexican tile is then dried, cured, and fired in a kiln. Most Mexican tiles are soft and permeable. They usually have a rustic, grainy, handcrafted look. Surface texture ranges from smooth to rough. Generally, you will find wider variations in the tones of hand-made Mexican tiles because fewer additives, silica, iron, and other minerals are used, and because the tiles are cured in the sun and then hand stacked in the kiln.
Perhaps the best known hand made Mexican tiles are called Saltillo tiles, named for the city in Mexico where they are made. So called super Saltillo have rounded edges. These dense, hand-made unglazed tiles are also made in the United States, Europe, and South America.
Mexican tile differs from ceramic and quarry tile in that the proportion of ingredients in the clay are not measured. It is allowed to dry in the sun until it is firm enough to be transported to the kiln. Originally, and to some extent today, Mexican tile was the product of families working together. It was not uncommon to find a child's handprint or a dog or cat paw imprinted in the surface of the tile. Leaf prints could also be noticed where they drifted down when the tile was drying. These slight imperfections are part of the charm of using Mexican tile.
In warm, dry climates, some experts advise allowing time for calcium and lime to effloresce to the surface of newly set Mexican tiles (it can take a month) before sealing them. Or, use a breathing sealer, which allows this process to continue without adverse effects. A non-breathing sealer can trap efflorescence, creating unsightly areas on tile. In cool, wet climates, using Mexican tile outdoors is not advisable: mildew and moss will become problems.
Due to the relatively uneven thickness of Mexican tile, it should be installed using the thick-set method. If being used in a greenhouse or similar area where drainage is possible, Mexican tile may be laid in a bed of sand, which will accommodate any unevenness of the tile. All cracks or joints are then filled in with sand.
Mexican tile is extremely porous – the most porous of all tile… due to its natural qualities. This does present a problem during installation and grouting, as grout stains will show if not removed promptly. A sealer may be used and then four coats of polyurethane varnish, however, this does impart to the tile a very shiny finish.
Keep the floor free of dust and dirt by sweeping or vacuuming and, when the wax shows signs of wear, apply another coat of wax and buff.