Wine Racks
---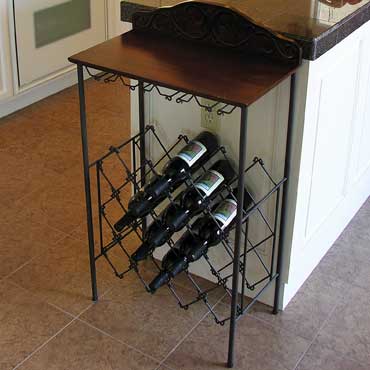 The addition of a new wine rack can make dining and entertaining at home feel more luxurious. Save kitchen storage space with a wall-mounted wine cabinet or serve family and friends quickly from a rolling wine cart. From freestanding hardwood stands to powder-coated steel countertop models, you can find wine storage racks to match any style of home furnishings.
Showcase beautiful wine bottles, glasses, and accessories on wine racks instead of storing them out of sight in the kitchen cabinet. Choose a wine rack with angled shelves or slots that hold standing bottles upright in tidy rows to display bottles with the labels facing out. Keeping the wine labels visible makes it easy to view your entire selection at a glance. Slatted paneling separates each bottle from the next for an orderly appearance.
Add a touch of elegance to a traditional dining room by placing an elegant, wooden floor rack beside a home bar. Dangle your most attractive wine glasses upside down from the built-in stemware rack. For a more modern look, try a wall-mounted buffet with self-closing doors and sleek, metal handles. Build a complete serving station by organizing corkscrews, ice buckets and more on the expansive accessory shelves using racks of either style.