Borders and Accents
---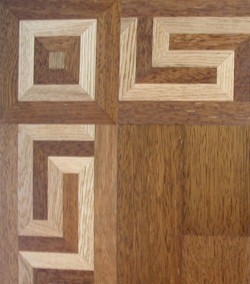 Borders and accents are the latest styling trend in home decor. This is where custom-designed accent features are inset into specific flooring areas. Borders and accents can bring an elegant look to an otherwise ordinary floor. The features are straightforward to install, and they cost much less than a complete custom floor, because the single element, regardless of the cost per square foot, never adds up to much. More importantly, most borders and accents can be retrofitted to existing floors, opening options to any home. For instance, special inlays cut into finished hardwood floors or wood borders spliced into carpeting can make any floor stand out.
A feature strip accent will catch more attention than if it were part of a standard pattern. Purpleheart wood is a bright, striking purple when freshly cut, darkening into a deeper purple with age. Try installing a purpleheart wood border around a cherry-plank flooring. Then to make sure it will not go overlooked, implant a strip of polished brass between the contrasting woods. The result is stunning.
Some floors lend themselves to accents and borders more than others. Locations most commonly enhanced by detail features are inside a foyer; around the perimeter of a room; as a centerpiece in the dining room; on stairway landings; and down the center of stairs or hallways.
In a more refined approach, home decor accents and borders have also been used successfully as visual dividers between rooms and to create a focal point by a fireplace mantel, under a chandelier, or even around a particular piece of furniture. The objective is to target areas that need highlighting and show off the feature best.
Most floors have need of periodic maintenance and repair, and such times are suitable to think about borders and accents. When hardwood floors require sanding the extra expenditure of custom inserts can almost be swept between the cracks. In fact, adding an home accent or border will sometimes lower the cost of repair when moving a wall or when a new wood section does not match the color of the existing floor.
Unless you're handy, you may want to hire a professional. Essentially, inlays are traced onto the floor, cut into place, and glued down with a floor-to-ceiling jack. Or in the case of edge stripping, the channel is simply routed part of the way into the floorboards. The tolerance for error is slim, but most tradesmen intentionally cut the opening narrow and then sand the inlay to the final fit. Obviously, in the case of new floors, the piece can be secured by tongue-and-groove joints during installation-that is, if the idea comes up before the floor gets set.
Hardwood floors can be modified more readily than others, partly because they're easy to tamper with, but also due to their compatibility with a variety of styles and a wide assortment of existing design elements. Homeowners have come to realize that with the right border and accents, even the humble floor will make a noble statement. You may find, once the accented floor is in place, that you hate to even step on it at all.