Natural Fiber Rugs
---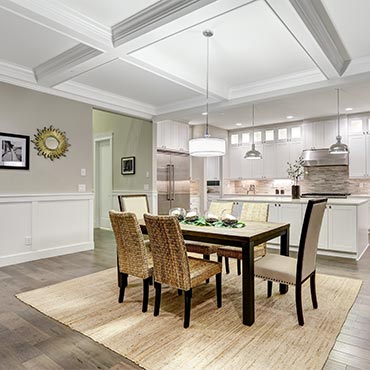 Sisal is traditionally used in rope making and the same qualities of strength make it ideal for floor covering. Durable and hardwearing, it is also immensely versatile and can be woven into an extraordinary range of styles and patterns. Grown in Brazil and East Africa, sisal is the leaf fiber of the plant AgaveSisalana. The fibers are extracted by crushing the pulpy leaf and then are washed, dried and graded before being spun into yarn. Sisal also takes color well and can be dyed. The quality of sisal floor covering depends on the origin of the sisal and sophistication of the manufacture. European - manufactured sisal are traditionally top of the range, using the best East African fibers. Sisal from Brazil is exceptionally strong. Sisal is recommended for any area in your home, except bathrooms and kitchens.
As the name implies, sea grass carpet is indeed a grass and sea water does play a part in its production. It is grown in China in paddy fields and at a certain point during the growing season, the fields are flooded with sea water. After harvesting and drying, the sea grass is spun into strong yarn, suitable for weaving. Its impermeability makes it hard to dye by conventional techniques so most products come in their original state. As with all plant fiber floor coverings, there are natural inconsistencies in color and occasionally in the spinning and weaving, but these tend to add rather than distract from it's overall charm. Suitable for any area in your home. Except Kitchen and Bathroom. Can be stuck directly tot he floor. If you require a little more comfort it can be fitted onto an underlay. The underlay must be stuck to the floor and then the carpet stuck fully to the underlay.
With its soft silky luster, jute is a fine natural fiber. It is best suited to areas of the house such as sitting rooms and bedrooms, rather than the more heavily used areas such as halls and passageways. Jute is a very versatile, adaptable yarn which weaves well, looks and feels good and comes in natural tones. It can also be mixed with wool and linen, enabling more color variations, and improving durability, so the jute/wool/linen mix can be used throughout the home except for in kitchens or bathrooms.
Coconut husks contain elastic and extremely strong fibers. These husks are harvested and soaked for many months, and then beaten, washed and dried. Finally, the pale yellow fibers are spun into yarn. After further processing it is then woven into beautiful floor coverings. Coir can be fitted into any area of your home except for kitchens and bathrooms, and is a very durable hard wearing floor covering. Fitting either be by sticking directly to the floor, or by sticking to an underlay which has been stuck to floor.